All Saint's Church Warlingham Surrey
An ancient building; A thriving community
Welcome
All Saints' Church Warlingham
Can you help to complete this survey please?
We would love to know what you are looking for from this ancient (though sometimes a bit chilly!) building and how, apart from church activities it can be best used by the community. You can take the survey by going to the link
All Saints' Community Survey
It should only take a few minutes. The responses are anonymous unless you ask to be contacted by us.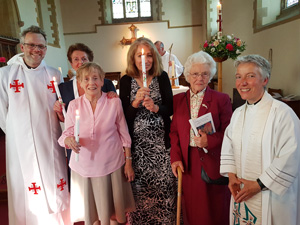 Our candidates being confirmed by the Bishop of Southwark
"From the moment I arrived there was
a warm welcoming atmosphere,
smiling faces, friendliness and
helpful support for one another".
Did you know! Warlingham is an area described by Age UK as being 'at high or very high risk of loneliness'. The older age population is predicted to rise by 30.6% between 2012 to 2027
Similarly, single person households are also increasing. The adverse effects of loneliness on both physical and mental health are well known.
At All Saints' we would love to be able to help and are looking for three volunteers, one to arrange transport for those who need assistance, one to arrange for talks and other events, and one to set up an art/painting group. Or let us have any other ideas you may have and would like to be involved in.
Regular Church Services

Sunday

9:30am  Parish Communion & children's
Sunday Club
9:30am  All Age Communion (2nd Sunday)
6:00pm  Choral Evensong (1st Sunday)
Wednesday

10:00am  Holy Communion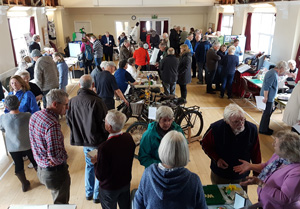 Hobbies in Warlingham Church Hall event organised by All Saints'
Team Rector: Reverend Michelle Edmonds

01883 623011
Team Vicar: Reverend James Ashton
01883 624125 m: 07948 248030
Protecting your personal data
Thank you for visiting the Home page of All Saints' Warlingham. You may contact us to ask for information about church events, activities or services. If you do so, we will keep your personal data (email address and any other information you may share) securely protected in line with the new General Data Protection Regulation requirements.  Our Privacy notice is available here www.allsaintswarlingham.org.uk/dataprotection.pdf